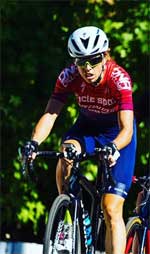 Click for Lisa's race Results on USACycling website

We asked Lisa how she got started in cycling. She replied, "My mother used to take me on rides to burn off my excess energy. The rides got longer and farther. By the time I was in high school I was addicted and she would do shuttle runs up Mt Ashland, Oregon for me on weekends. It was just what we did as a family for fun."

She adds, "I love a good sprint- just burning everything you have in a handful of seconds. There have been many good ones- San Rafael in 2019, getting nosed at the line by Starla was a really dramatic one. Just being a part of the D1 series was really epic with a great squad, Levine Law Group."

"I've been a nurse for 11 years. 2 years of Pediatric Intensive Care, 1 year volunteering in Nigeria and the last 8 or so in the Emergency Dept. I have just finished my Nurse Practitioner certification and am looking forward to continuing my career at this level."

"My goal is to support my ladies on this team to be competitive and inspiring both regionally and at professional races. I want us all to dig deep and learn just what is possible if we really work together. I do not want to set the bar too low for any of them- we want to be THE team to beat wherever we go and also be the most approachable and positive to work with both on and off the road."