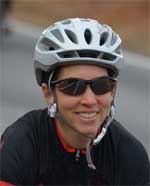 Bonnie Denoyer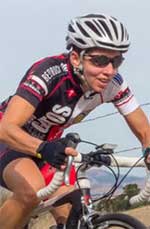 We asked Bonnie how she got involved with cycling. She answered, " It really all began with a tri bike that a family friend left at my brother's house a few years ago. The friend said that she was finished with racing, but my brother, Jeremy, also in the LGBRC, and I were intrigued. That bike didn't fit anyone in the family, was extremely uncomfortable and was ultimately used for piece parts, but it was the impetus for our renewed interest in our favorite childhood sport."

What do you consider your greatest cycling achievement? She replied, "Ever been on a Saturday LGBRC training ride and survived all of the climbing? A weekly achievement! Seriously, because of the intense training we do as a club, I was thrilled to see the payoff with a third place finish at the Fremont Peak Hill Climb-NCNCA Hill Climb Championships in 2015. "

Tell us anything else you'd like to about you. "I'm fortunate enough to be afforded the opportunity and support from my husband to be a stay-at-home mom of twin boys with special needs. Plus, I can train during the week while they are in school!"

Bonnie adds, "My goal is to train and race for a long time to come. It's wonderful how many women are getting into this sport in recent years. I wished I had had this opportunity when I was younger."

The LGBRC is fortunate to have Bonnie as part of our membership!