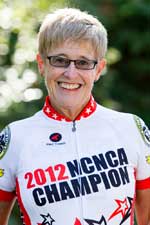 Click for Aldene's Time Trial race Results
on USACycling website, 2003 to present.

Aldene is a cat 4 rider on road and track. Time trials have been her specialty since she got involved in racing in 1988.

"I began bicycling at age 7 when I received my most memorable Christmas gift: a blue J.C. Higgins "girl's" bike. From then on, I was hooked! I loved riding among the prune orchards of Campbell with girlfriends, all wearing the same "Pink Ladies" vinyl jackets (a la the movie 'Grease'), taking homemade lunches out to eat under the trees alongside Hamilton Avenue."

" I became involved in racing after moving to Tait Street in Los Gatos and meeting Barry. The first Cat's Hill race I watched was in 1980. I enjoyed living near the course, and with encouragement from Barry joined the Cat's Hill public race in 1986. Barry, daughter Haley and I subsequently joined the Los Gatos Bicycle Racing Club. "

"The highest cycling achievement I attained was in1988 when I earned the bronze medal at Masters Nationals in Pensacola, Fla in time trialing, my favorite race. "

A retired teacher, she now maintains the LGBRC website. She is reinventing her professional self as founder of Nicerpage Web Design, website development company.

She says, "The wonderful associations I've made with people in the Los Gatos Bicycle Racing Club make the work I enjoy doing on the website an especially rewarding job!"