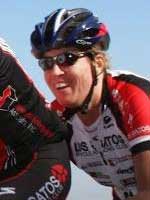 Kim Hill
Click image for entire photo
of Kim with
Husband
Rich Hill
.
Kim a loyal LGBRC supporter over the years. As mother and wife of LGBRC racers she has been an enthusiastic volunteer. Her brother, Steve Mason, is also a member. Kim joined LGBRC as a competitive tandem rider in 2013.

She says, "I have ridden a bike for as long as I can remember. I learned one day on my big brother's bike - he wouldn't allow training wheels to be put on the bike, so it was quick and dirty."

When asked about her greatest cycling achievement, she says, "I am still working on that - so far it is racing to the top of Montebello Rd."

She adds, "I have been a full-time mom for many years, and now I am training to be a Clinical Laboratory Scientist. I will graduate in March." As for her other interests, she says, "I play oboe and English horn."

Kim is a woman of many talents whom we are proud to count as an LGBRC member!