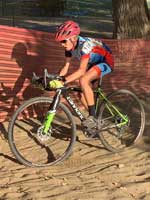 Justin joined Los Gatos Bicycle Racing Club in 2017. He is a junior cyclocross and mountain bike racer.

We asked him how he got started in racing. He states, "I was introduced to cycling on a strider bike when I was 2 years old. I loved riding my bike from a very young age. As a kid, I enjoyed family bike rides on the weekends, and participated in fun "training races" every week. From ages 8-12 I raced BMX at our local track. At age 10 I stared racing cyclocross with the Connecticut Cycling Advancement Program. Most recently, I started high school cross country mountain biking with Santa Cruz Mountains Cycling."

His most notable cycling achievement? "My greatest cycling achievement so far was 1st place in the 2019 NICA NorCal Finals - Sophomore Boys. My greatest achievement for cyclocross was series winner of the Surf City Cyclocross series."

He adds, "I am a senior at Los Gatos High School. In the fall, I run cross country with the school team. I really enjoy skiing with my family in Lake Tahoe during the winter. During the summer, I like to travel and explore new places. I participate in Boy Scouts, and have achieved the Eagle Scout rank."