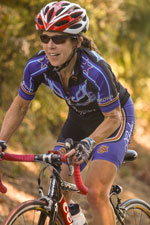 Lynn Sestak
Lynn joined LGBRC in 2015. She participates in the Saturday training rides and the Low Key Hill Climbs.

When asked how she first got into cycling, Lynn replied,
"My first introduction to cycling was when I started training for triathlons in 1984." She was a member of the Santa Cruz Triathlon Club.

Lynn considers her most notable cycling achievement to be
"Completing the Utah 5 Parks Epic cycling tour with a smile on my face, and placing second overall woman in the 2013 LKHC series."

She adds, "When I'm not riding my bike, I enjoy swimming and getting dirty in the garden, and if I had a retired grand prix hunter-jumper, I'd be riding horses too!"

"My day job is an engineering program manager at TiVo."

She comments that she is "Looking forward to more fun Saturday rides with this awesome group of happy cyclists."