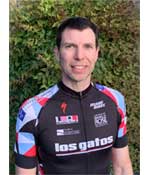 Mark Thompson
Mark joined LGBRC in 2015. He is on the 2021 Board of Directors, serving as secretary.

We asked Mark what initially got him into cycling. He replied, "When I was 15 I received a road bike, but left it behind when I went to college. While I was at school my younger brother took it on 50+ mile rides. I was really impressed and began to think of my bike as more than just something to get around campus.

After graduation some of my friends bought cars to celebrate having a real job, I bought a Cannondale bicycle and a vacuum cleaner."

His greatest achievement in cycling? "My greatest on bike achievement is riding 100 miles. I still don't know how I did it!"

We asked Mark about other roles he as assumed in LGBRC. He commented, "As a club member I helped with the Cat's Hill Classic Bicycle Race to organize the race marshals. This introduced me to club leadership and a new pizza restaurant in Los Gatos. Since then I have volunteered in various ways and was elected to the Board of Directors. I currently serve as secretary."