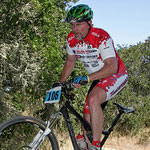 Chris Twiggs,
photo by
Bikeguy Rick
Chris is a masters member of LGBRC who joined in 2007. He and his son Brian have posted successful records in mountain bike racing since they joined.

Chris has taken the lead in organizing Cat's Hill Classic and the Foothill Circuit Race. He works for Blu Homes, modern high-end prefab homes.

When asked what how he first got interested in cyclng, he replied, "I rode my bike around a lot when I was younger, but didn't really get into cycling until my early 20's when a friend introduced me to double and century rides (in that order). From there I started racing and joined a team where I raced with several people who are LGBRC members today. With a lot of support from the team and good coaching I worked my way up to a Cat 3 road racer before leaving the sport."

He continues, "A few years ago, while mountain bike riding with my son Brian, we ran across Rob, Nick and Claire Jenson who later convinced us to get back into cycling and join LGBRC."

We asked Chris what he considers to be his most notable cycling achievement. He replied, "Cycling has provided me a lot of memorable experiences, but my greatest achievement is still yet to come. However the thing I am most proud of is watching my son's growth in the sport."

What other activities does he pursue? " Aside from my family and cycling, my other great passion is mountaineering and back country skiing. With family and work I don't have the desire to get out for the multi-day trips "much" anymore, but can usually be talked into at least one peak adventure a year. "