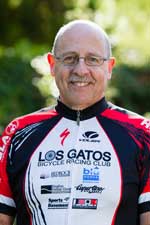 Barry Gordon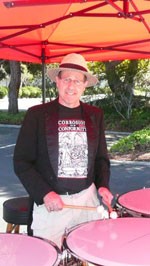 Barry playing Timpani at Timpani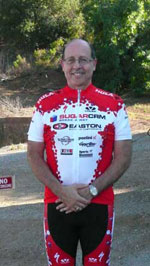 Photo by
Aldene Gordon
Barry was first attracted to cycling when his high school calculus teacher, Mr. Devlin, started a bicycle club in his native Long Island. He has ridden nearly continually ever since but has also found time to play semi-professional soccer, recreational softball, work on a formula Ford car pit crew and coach Westinghouse's women's softball team.

Aside from riding his black and red BMC SLC01, he is principal timpanist in the Saratoga Symphony and is the San Jose Chairperson of the Carnegie Mellon Admission Council. Barry is a consultant to the electric power industry specializing in corrosion and materials engineering.

Barry has been president of the Los Gatos Bicycle Racing Club for over a decade. He leads the monthly meetings and also serves as clothing manager and sponsorship chairperson. When asked what he considers his greatest cycling achievement, he notes, "being president of the LGBRC and working with such a diverse and wonderful membership. The LGBRC is the greatest organization I have ever had belonged to. The members are extremely bright, friendly enthusiastic and have become my very good friends. In fact, I often attend our members' weddings and sometimes even perform the ceremony!"

Now retired from racing, Barry used to race track, time trials and road races as a Category 4 rider.